Creating Your First Blog Post
To write a blog post, click on the Posts » Add New menu in your WordPress dashboard.
You will see an editor area where you can write your first blog post.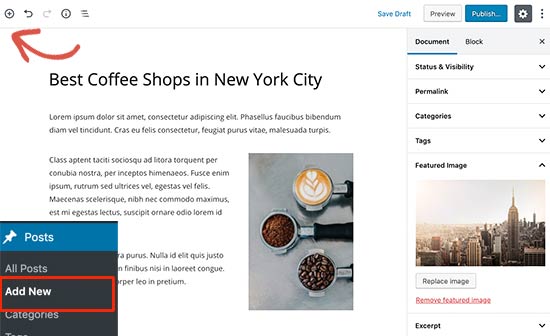 WordPress uses a block-based editor where each element is a block. This allows you to create beautiful content layouts for your blog posts.
Once you're done writing, go ahead and click on the Publish button on the top-right corner of the screen to make your blog post publicly available.
On the posts screen, you will notice several other sections such as Categories and Tags. You can use these to organize your blog posts into sections.
To utilize all the features on the posts screen, you should read our article on how to add a new post in WordPress (video included).
Often beginners are confused between posts and pages menu in the WordPress dashboard. That's why we have also written a complete guide on the difference between posts vs pages in WordPress.
Plugins & Customizations
Once you have written your first sample blog post, you probably want to get started with adding other usual elements on your website such as contact forms, galleries, sliders, newsletter subscription form, etc.
To add all these additional features, you need to use plugins.
WordPress plugins are apps that allow you to add new features to your website (without writing any code).
There are over 55,000 WordPress plugins available in the free WordPress plugin directory alone. This means no matter what you want to accomplish, there is a plugin for it.
We have a step by step guide on how to install a WordPress plugin.
That being said, let's take a look at how to use plugins to add some essential features to your WordPress blog.